Affiliates of Charter Oak Country Club can make the most of their Membership by taking advantage of the numerous luxurious and high-class amenities we offer, including our country club pool. Located in the lovely Metrowest, Massachusetts region, our country club, and the surrounding area offers something for all Members to enjoy. Discover more about our pool area and the many amenities it provides Members at Charter Oak Country Club.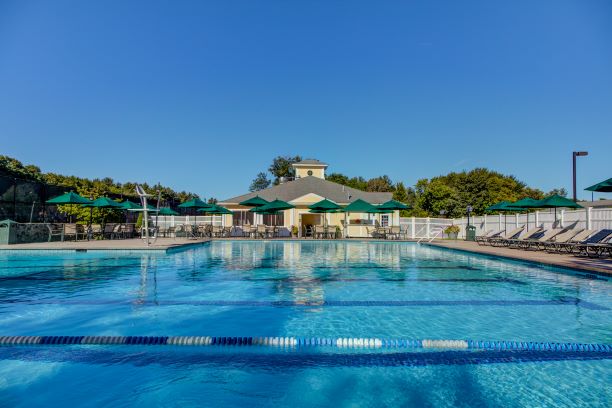 About Our Outdoor Pool Area
Included with their Membership, Members have full access to our beautifully landscaped outdoor pool area. The pool area features a regulation Olympic-sized heated swimming pool that allows Members and guests to relax in the water or work on their breaststroke. The pool is regularly maintained to preserve its crystal blue water. The pool area also consists of a Jacuzzi where Members can soak their sore muscles after a grueling swim, or have a relaxing drink at the new outdoor bar.
The pool area is ideal for children, as well. The special children's pool and play space will keep your little ones entertained, allowing you to have a relaxing afternoon by the water. All lifeguards on duty are well-trained in the latest first-aid techniques, providing parents and guardians with peace of mind. Members can quickly change into their swim attire either in the locker room or in one of the nearby changing rooms. The outdoor pool area also features showers for those who need a quick rinse.
Enjoying the water can work up an appetite. Thankfully, Members won't need to travel far to find delicious meal items. The outdoor pool area at Charter Oak Country Club also features a pool bar and poolside dining accommodations.
Members who want a refreshing beverage to cool off will find a variety of options, including frozen drinks, beer, and wine. In addition, poolside dining options include a full array of fresh salads, grilled Angus burgers, sandwiches & wraps, ice cream, and plenty more delicious menu items. The newly renovated bar includes several large-screen TVs, which are perfect for viewing when you need a break from the sun. Televisions are always set to the must-watch game of the week or TV program.
Other Membership Privileges
Being a Member at Charter Oak Country Club gives you access to all of our facilities and offers several Membership privileges. When not swimming, many Members choose to take advantage of our private 18-Hole golf course. Designed by Robert Trent Jones, Jr., the course suits both casual golfers and those who enjoy challenging themselves. The grounds are always kept in pristine condition, providing Members with an enjoyable golf outing every time they step on the tee box. Membership privileges included with our golf program also include:
Juniors & Ladies Golf Program
Driving range
Putting green
Chipping area
Electric golf carts
Custom club fittings
Golf pro lessons
Tournaments and special events
Other athletic facilities and amenities Members can utilize when not swimming in or relaxing by the pool include:
Junior and Ladies' Tennis Program
Tennis and pickleball courts
Tennis pro lessons
Tennis clinics and camps
Fitness center complete with weight machines, free weights, cardio bike, treadmills, elliptical trainers, and more
Locker rooms with steam room, showers, and attendant services
Become a Member to Enjoy Our Country Club Pool
The Charter Oak Country Club pool and poolside dining options offer Members a summer filled with relaxing days and fun events in a casual, family-friendly environment. Our beautifully landscaped heated pool is a great place to enjoy a long summer day with friends and family or just unwind after work with a cocktail. If you live in the Metrowest, MA area and would like to utilize our beautiful pool area, as well as our other offerings, you can request information about how to become a Member of Charter Oak Country Club today.