John Fuller, of Fuller Associates in Boston has designed this magnificent 38,000 sq. ft. brick-faced Clubhouse in the classical revival style of Thomas Jefferson. The Clubhouse offers a full range of amenities including several casual and formal dining rooms, men's and women's locker rooms, first class workout/fitness facilities and function space for 275+ people.
All Facilities are Member Only
Charter Room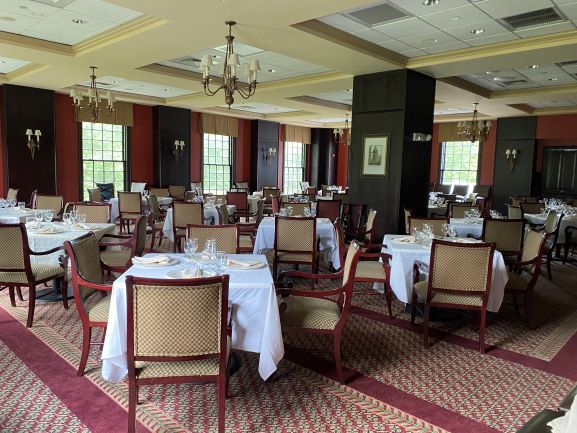 The Charter Room is our formal Dining Area and is decorated in a casual elegance style. This finely appointed setting is both comfortable and cozy with linen draped tables spaciously nestled with fine upholstered armchairs. The charter room offers several window tables with beautiful views of the golf course. The wine list has an array of finely tuned selections from around the world to be enjoyed by you and your guests.
Members utilize this room for those important business entertaining occasions, for a quiet adult gathering and even for a little extra romance when it's just the two of you. The Charter Room is also great location to host larger private events.
Hours of Operation
Peak Season Hours
(May-Primary Fall Tournament, October 13th) Tuesday - Sunday 5:00pm - 9:00pm
Off-Season Hours
(October 14th-April): Wednesday, Thursday & Sunday 5:00 pm - 8:00 pm Friday & Saturday - 5:00 pm - 9:00 pm
Children under 14 are prohibited. The Club is completely closed on Mondays and Tuesdays during the off season.
Grill Room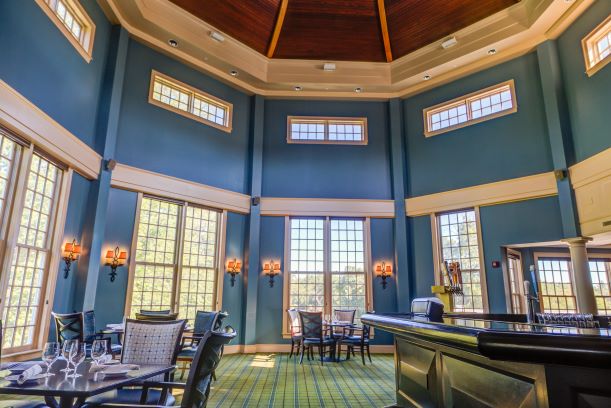 The Grill Room along with our outdoor Balconies offer casual family dining with views of the course, friendly service and our grand atrium ceiling. The menus for lunch and dinner range from light fare sandwiches, appetizers and salads to our outstanding steaks, seafood and pasta entrees. The menu is focused on seasonal and locally grown items.
The Grill Room is a wonderful meeting place for the entire family- midday or early evenings normally you can find several members enjoying some down time.
Hours of Operation
Peak Season Hours
(May-Primary Fall Tournament) Tuesday -Thursday, Sunday 11:00am - 8:00pm
Friday & Saturday 11:00am - 9:00pm
Off-season hours
(October-April): Wednesday, Thursday & Sunday from 11:00 am - 8:00 pm
Friday & Saturday 11:00 am - 9:00 pm for both lunch and dinner. The Club is completely closed on Mondays and Tuesdays during the off season.
Off-season hours
(After we Re-Open from Winter Break - February) Friday & Saturday 11:00 am - 9:00 pm
Sunday 11:00 - 8:00 pm
Pub Room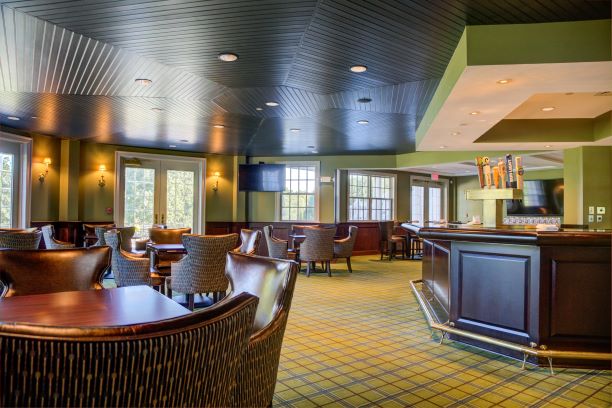 The Pub Room is our gathering area for adults. The Pub offers the same lunch and dinner menu in a more relaxed atmosphere. Enjoy scenery and catch a game on one of the several TV's and offers premium beverages and several craft beer selections.
Hours of Operation
Peak Season Hours
Tues-Sun 11:00am-7:00pm
Off Season Hours
12:00pm-6:00pm Saturday and Sunday until course closes
Grand Ballroom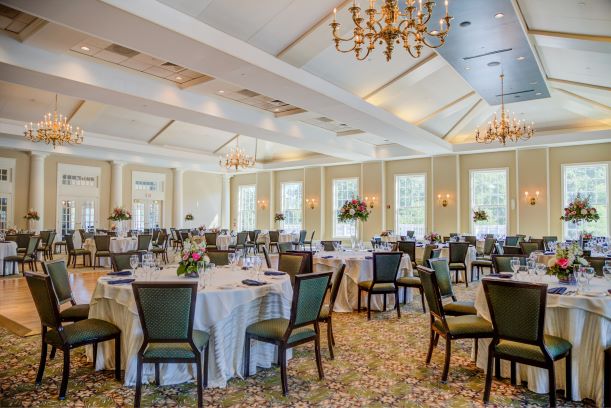 The Grand Ballroom, with its chandeliers, French doors, and floor-to-ceiling windows, gives all events a charming, yet comfortable, feeling. The Grand Ballroom can accommodate up to 275 guests. For more information on Weddings/Events contact Joanne at [email protected], ext. 610.
Living Room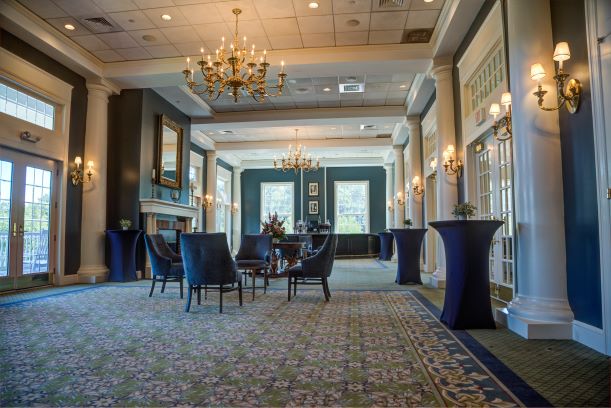 The Living Room, adjacent to our Grand Ballroom provides the ideal setting for intimate gatherings, cocktail receptions, showers and meetings for 25-70 people. It is complete with a full bar and access to a private balcony overlooking our lush golf course which is perfect during the warmer months. During the cooler seasons this space can also create a romantic atmosphere with its oversized fireplace and warm lighting, perfect for any occasion.
Outdoor Terrace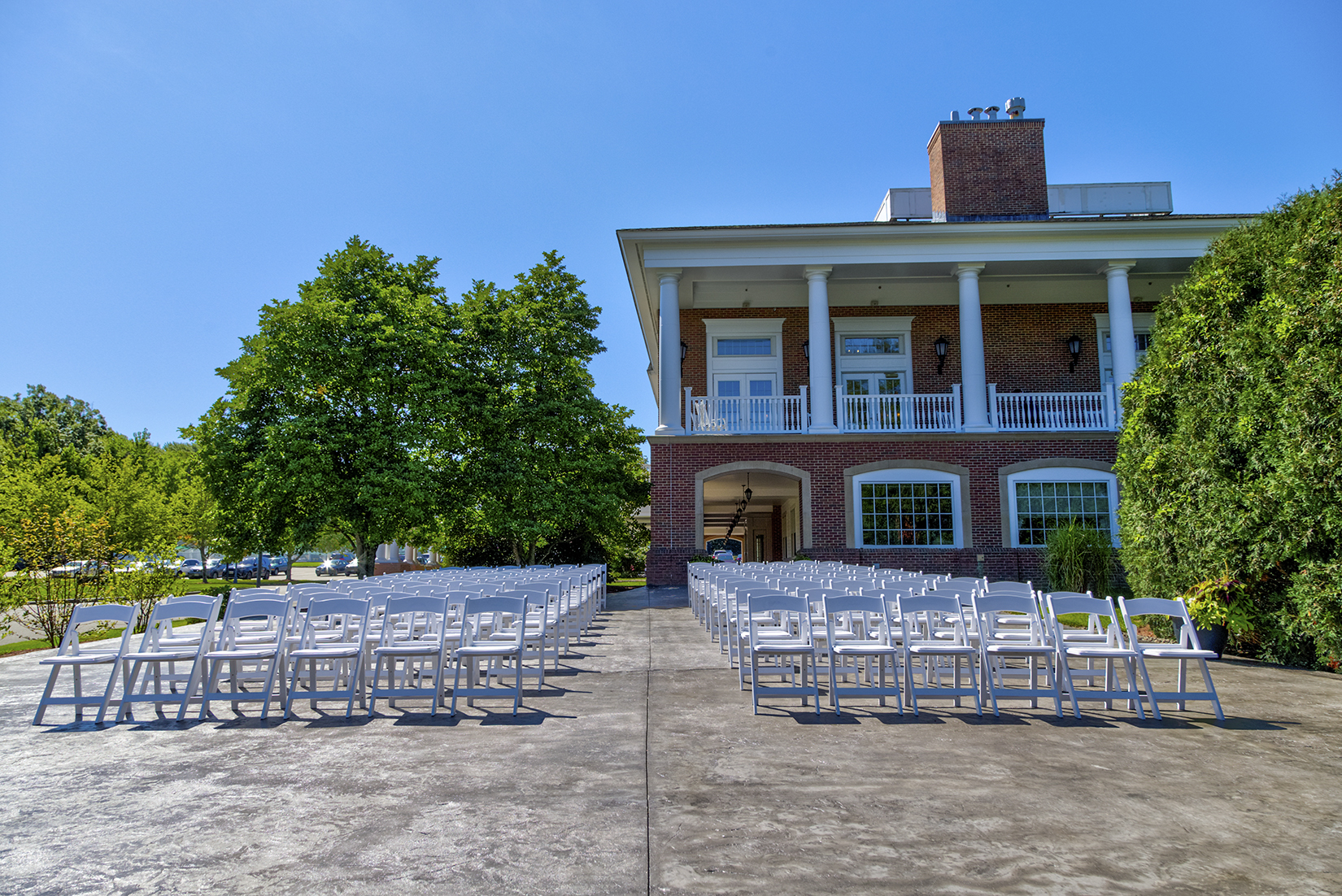 Our NEW Outdoor Terrace is perfect for Wedding Ceremonies, as well as Mitzvah Ceremonies and Cocktail Receptions. Overlooking the gorgeous grounds, it is the ideal spot to celebrate, during the months of May through October. With it's stone patio and picturesque views, the golf course is a stunning back drop in a beautiful outdoor New England setting.
Locker Rooms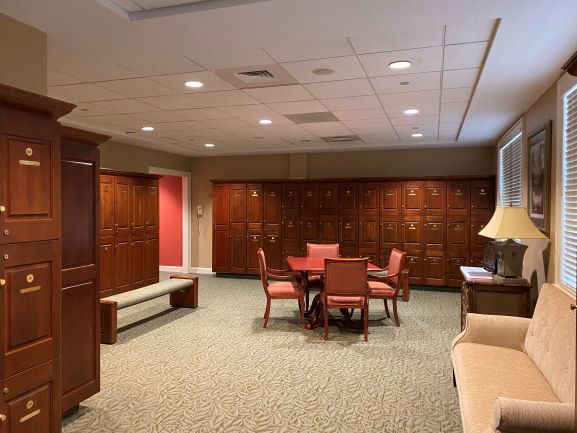 The Men's and Ladies' Locker Rooms are tastefully decorated with warm neutral colors and finely crafted cherry wood lockers. Each Locker Room offers an exterior entrance, available guest lockers for day use, a steam room, showers and staffed attendant services ranging from fresh towels to complete shoe care for both your golf and street shoes.
Fitness Room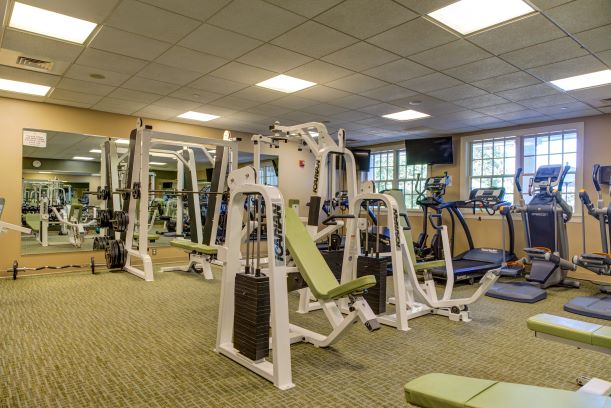 Our Fitness Center is complete with weight machines, free weights, cardio bike, treadmills, elliptical trainers, a Smith Machine and TV's.
Tennis/Pickleball Courts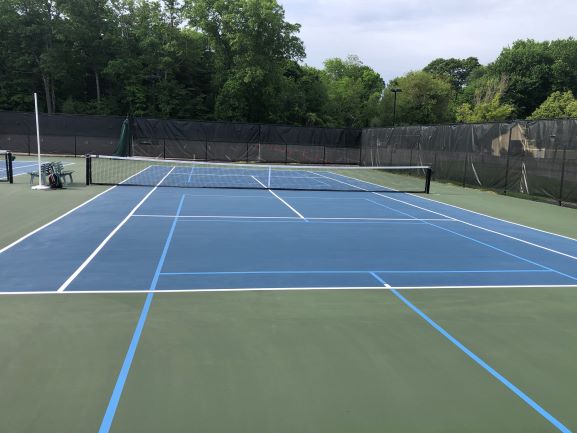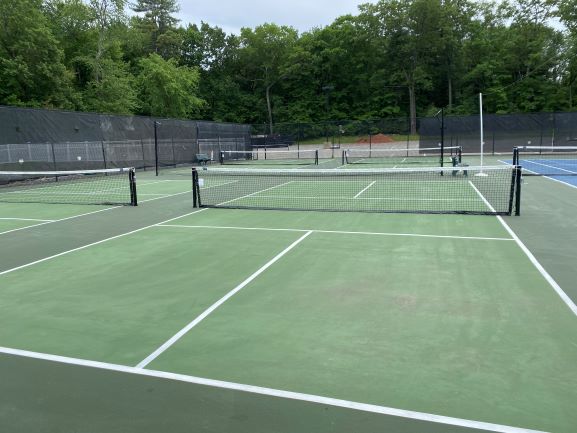 We offer 2 tennis court, 4 pickleball courts, and also 2 basketball hoops.
Snack Bar & Pool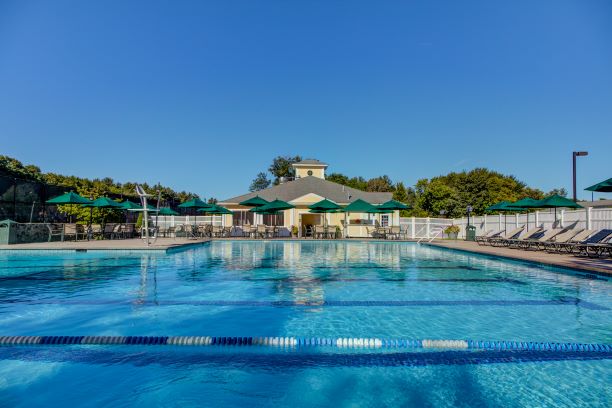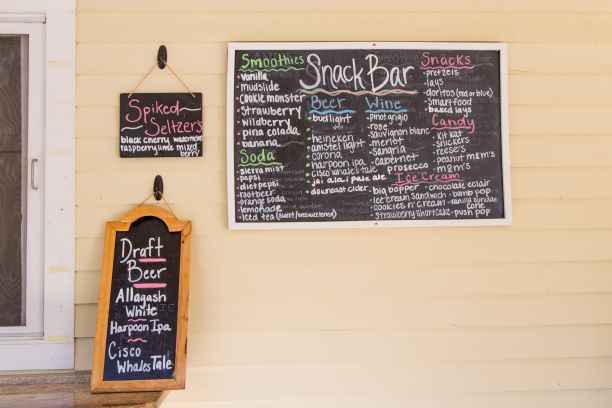 Charter Oak pool & snack bar offers it members a summer filled with relaxing days and fun filled events in a casual family friendly environment. Our beautifully landscaped heated pool is a great place to enjoy a long summer day with friends and family or just unwind after work with a cocktail. Along with our Olympic sized swimming pool there is a hot tub and children's pool complete with a play area. The snack bar has a full array of fresh salads, grilled angus burgers, sandwiches & wraps, Ice cream , frozen drinks, cocktails, beer and wine.
Pro Shop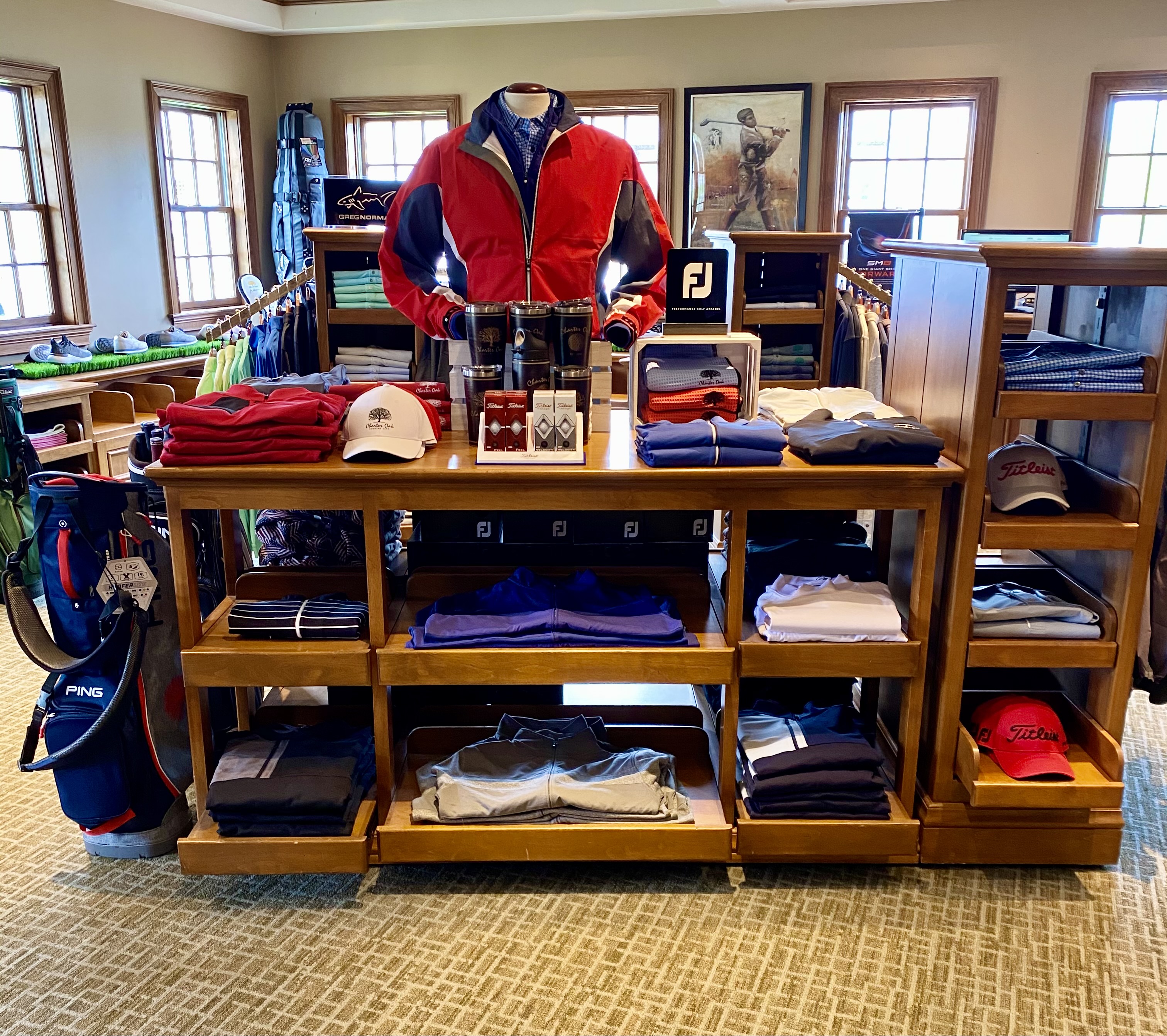 Charter Oak Country Club has a full-service golf shop with a very knowledgeable staff who offers lessons and clinics, along with a fully-stocked shop with the latest in golf equipment and apparel. We guarantee to have something to enhance your wardrobe or improve your game. Our experienced golf staff will help you with your selections, including gift certificates, tournament prizes and corporate gifts. Our golf shop carries golf fashions and technology from the following manufacturers:
Turtleson
Stitch Golf
IBKUL
Lululemon
Travis Matthew
Nike
Vineyard Vines
Footjoy
We offer complimentary custom club fitting by utilizing the ES14 Golf Ball Launch Monitor. Every club in your bag can be tested for Ball Speed, Club Head Speed, Launch Angle, Spin Rate, and Smash Factor